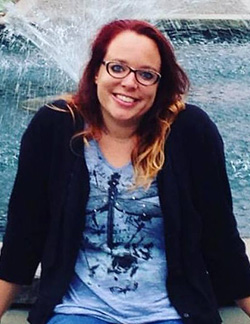 Stephanie D. Smith is a Licensed Professional Counselor with a Master of Science degree in Mental Health Counseling and an undergraduate degree in Psychology. She has experience with Autism Spectrum Disorders, Generalized Anxiety Disorder, OCD, depression, Bipolar Disorder, self-esteem issues and adjustment disorders that sometimes occur with the chaos and stressors that life presents to us at any moment. In addition to working with adults, Stephanie also works with children and adolescents with issues like OCD, separation anxiety, ADD/ADHD and Oppositional Defiant Disorder.
Stephanie firmly believes that we have a choice in how we respond to events that happen, and that we are not doomed to circumstance. Because of this, there is hope. We can be empowered as human beings to be creators of our own destinies.
Stephanie uses a variety of modalities in her therapeutic interventions, including Applied Behavior Analysis techniques, Rational Emotive Behavior Therapy, Cognitive Behavioral Therapy, and borrows techniques from Dialectical Behavior Therapy including mindfulness, emotion regulation, and distress tolerance skills.
Stephanie's foundation is rooted in the belief that human beings are doing the best they can with what they know and what they have been given in life. Even with maladaptive coping skills, people do them because they work. Stephanie comes from a warm, nonjudgmental and validating stance and is very person-centered. She loves helping clients reframe the negative stories they tell themselves, and to foster more constructive coping skills to get those same results that negative coping skills may achieve but also result in dire consequences. Just as we learn these unhealthy coping mechanisms, the good news is we can unlearn them too, and relearn healthy ways of being in the world and coping with what life brings.